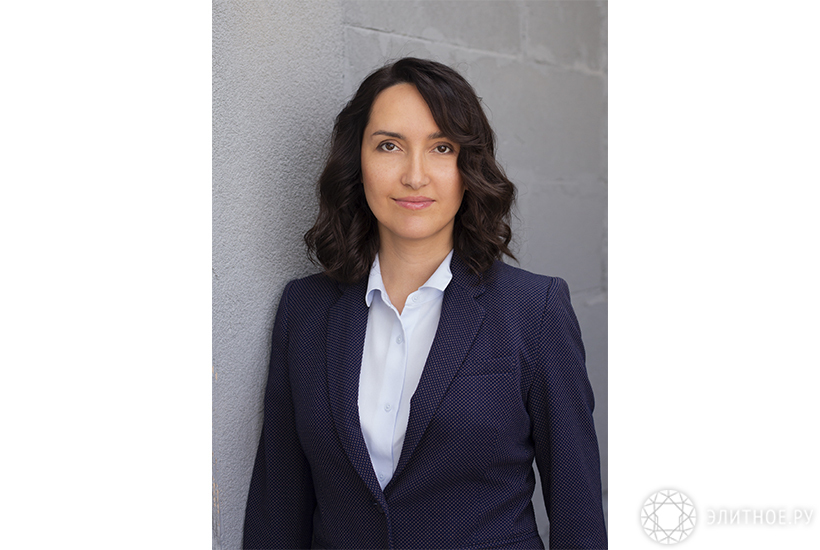 How the general slowdown trend has affected the design of public spaces and courtyards
The slow living trend, which began an active march around the world a few years ago, noticeably strengthened and matured during the COVID-19 period – when the crazy speeds slowed down, there was time for awareness, for favorite things and communication with loved ones. Without saying a word, the trend of general slowdown was picked up by many: from interior stores selling products for unhurried, meaningful interiors, to landscape designers designing beautiful, "slow" spaces, getting into which you feel like yourself, and not an impersonal part of a noisy metropolis. What will public spaces and courtyards be like in the context of the slow living philosophy?
New manifesto
"Slow", meaningful design in landscape design is a relatively new trend for Rostislav. So, until recently, the spaces inside the courtyards had purely practical functions. Here the child is rolling down the hill, there his mother is reading a book, and on the other side the father parks his car. Functionally, strictly, without art, without a creative look at leisure. Yards were perceived utilitarian: like a bathroom, where you can hardly go without work. But along with awareness, with the desire to "slow down and consider", there is a need to change the adjacent territories, to make them not so much a function as an emotion, a place where it's nice to just be.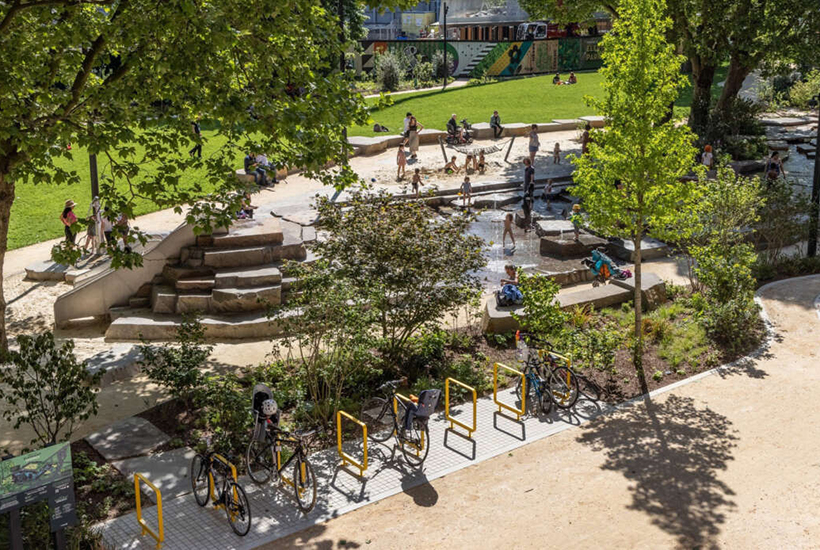 Clear programming of spaces is no longer in vogue. There is an increasing demand for areas that are multifunctional, flexible and adaptable, where you can walk and view green spaces, read, enjoy an impromptu picnic with friends or look at the sky (Elephant Park in the photo above and below). At the same time, there should not be any special "tips" on what to do, and "lawns" on which "not to walk." Such "territories of peace and freedom" can safely be called a popular format for development projects in the coming years. Already today, in high-quality residential complexes, yards are becoming an important part of the everyday life of citizens, almost the same as, say, a living room or a kitchen. One takes a computer and goes down to the yard to work, the other drinks coffee here in the morning, brought from home, the third went out to stretch, the fourth is talking on the phone.
A beautiful, comfortable and aesthetic courtyard, an authentic natural space that feels good, and not a courtyard half-occupied by a bulky plastic slide or an asphalted basketball court – this is what a post-pandemic society that has experienced the hardships of lockdown will need.
Meaningfulness – from the youth nails
Unbelievable but true! If a child is offered to choose a slide or a large wooden snag for playing, he will choose the latter. Why? It's simple: children are more aware than adults, and more prone to fantasizing and creative games. It is obvious that a snag awakens their imagination, motivates creativity, gives rise to interesting images and ideas, unlike a slide that sets limits, imposes a certain form of play, fast and careless.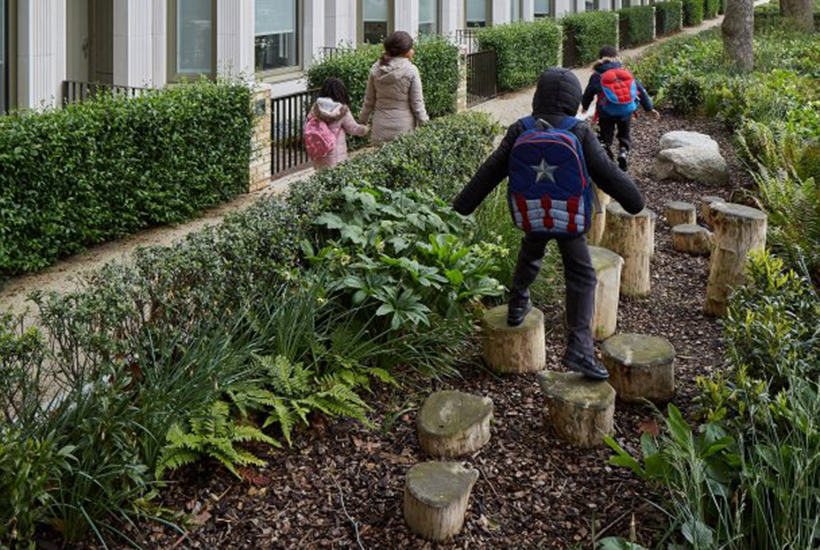 That is why we try to incorporate natural elements into our projects that provoke creativity and meaningfulness: for example, logs that you can walk on, from which you can jump, boulders that you can sit on, behind which you can hide. Complexes for creative activities with sand, water and other forms allow you to develop motor skills, cognitive, contact and interactive abilities. Such complexes increase creativity, develop attention and concentration, and also increase children's self-esteem, developing a sense of pride in the result.
Space for slow living
By no means all Muscovites, and even residents of other cities, with the rhythm of life existing in the city, can afford to walk in the park. With the pandemic, this topic has become even more painful. Therefore, the green house territory becomes almost a "panacea", thanks to which you can be closer to nature, be aware of yourself and slow down. One of the great solutions could be the creation of a small "pocket garden" or even an ornamental vegetable garden in the territories adjacent to residential buildings – again, without a special "purpose". For residents, this green oasis can become one of the coziest and favorite places in the yard.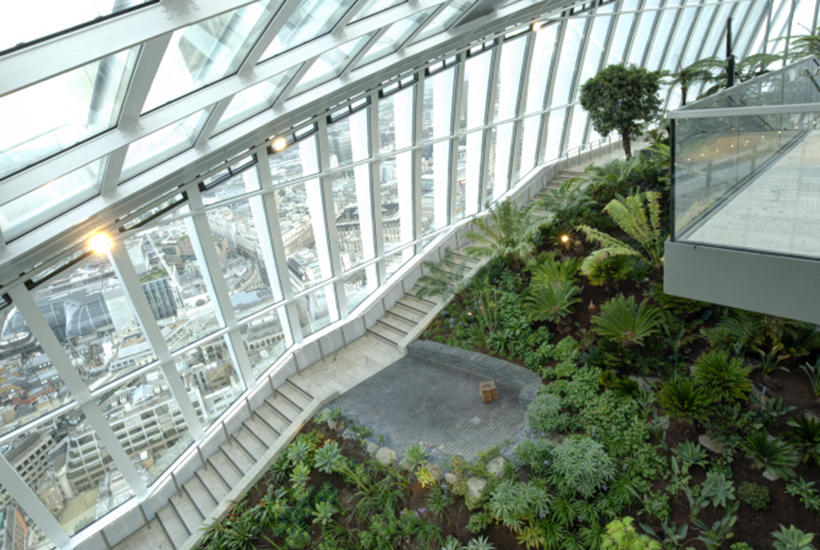 If there is not enough space for the implementation of such projects in a "linear format", you can think about vertical gardening. Today there are a wide variety of examples of vertical public spaces, which are no worse than horizontal spaces, creating a special atmosphere. One of the interesting cases in our practice is the Sky Garden project (pictured above) in a skyscraper at 20 Fenchurch Street in London. The evergreen garden is located on the top three levels of the building. The upper terrace of the garden is a cool shady forest. Medium – transitional type of plants. The lower terrace is filled with colorful flowers. Thus, Sky Garden is a great place to relax and unwind in a fairly busy building located in the very center.
A full life – every day
The trend of a general slowdown motivates designers to come up with new formats for the improvement of small architectural forms, courtyard infrastructure (Elephant Park in the photo below). The goal is to make people's stay in space interesting, funny, meaningful. Benches made of photogenic snags, trees with bizarre crowns, sensory gardens appear in the yards. By the way, about the last. In Europe, sensory gardens are becoming an important part of public spaces. These are special garden areas in which plants are planted that have significant differences: in the shape and color of foliage, sensory sensations, trunk shape, etc. Thus, citizens can enjoy different visual and tactile effects from such biodiversity. In addition to plants, in such gardens various elements of landscape design are used: paving stones, wooden platforms, gravel, surfaces of various textures. All this can be used for relaxation purposes, as well as educational programs, including people with disabilities, as well as older people with dementia.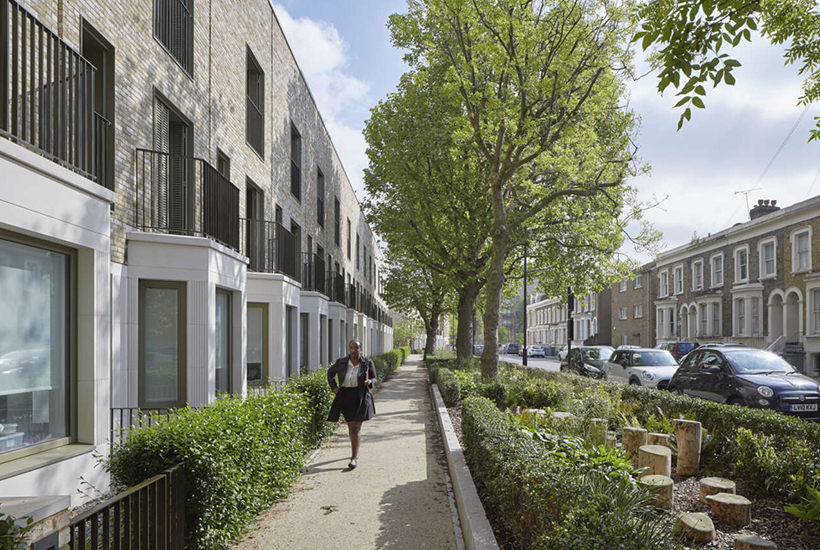 Another interesting trend in landscaping is insect hotels. Special structures are used to attract pollinators and other beneficial bugs and spiders to yards, parks and other public spaces, which in turn has a positive effect on restoring the ecological balance in the urban environment. In addition, the life of such "hotels" is interesting to watch for both children and adults. Why not the opportunity to slow down, connect with nature and feel the harmony of the surrounding world?
Instead of a conclusion
Beautification of territories, adding natural areas to the urban landscape relaxes, gives a sense of harmony and peace, which are so necessary for the inhabitants of the metropolis ("Polyanka, 44 "in the photo below). I think that high-quality landscaping, green spaces can seriously help in implementing the concept of slow living, in embodying the idea of ​​a meaningful and leisurely life.
The need for speed has consumed us, but thanks to covid, the race is starting to let go. The Slow Food Company, the Slow Art Association, the International Institute of Doing Nothing, and the Japanese Slow Club are not fabulous, but quite real organizations working on how to get back the time lost in the pursuit of success. I think that architects and designers are quite capable of returning a person and space: for enjoying life and harmonious communication with loved ones.