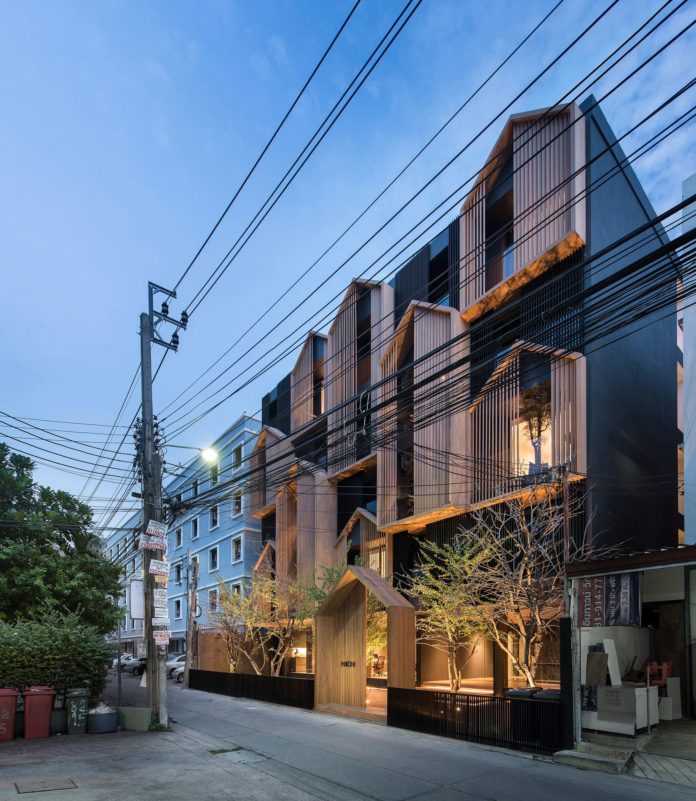 HACHI Aparthotel in Bangkok, Thailand by Octane Architect & Design
HACHI Serviced Apartment is an apart-hotel project implemented by Octane Architect & amp; Design in Bangkok, Thailand. It is quite difficult to find an apartment here with a good design at a reasonable price. However, the HACHI Serviced Apartment changed this attitude. Thanks to him, it became obvious that good design can form people to have a corresponding attitude towards it and the desire to preserve it.
The five-story building, located in the business district of Bangkok – Lad Prao, consists of several modules differing in height and depth. The combination of modules is thought out in such a way that the overall composition resembles the outlines of a vertical mountain village. This is facilitated by the original balconies, which are closed on top and on the sides with thin wood panels. These panels not only provide residents of apartments with privacy from neighbors, but also create a shade, thereby protecting the balcony from heating.
In total, the house with an area of ​​1100 square meters contains more than 34 apartments, ranging from 26 to 44 square meters. The walls of the corridor and the staircase hall are built of black stones, which are embedded with small spotlights, guides and people as they move up the stairs. The corridor and rooms are designed to make residents feel as comfortable as possible. The feeling of comfort comes from the combination of white marble and wood texture, which creates such a warm atmosphere that renters feel as if this is their own home.
Address 62 Lat Phrao 3 Alley, Lane 3, Khwaeng Chom Phon, Khet Chatuchak, Krung Thep Maha Nakhon 10900, Thailand Site HACHI.serviced.apartment