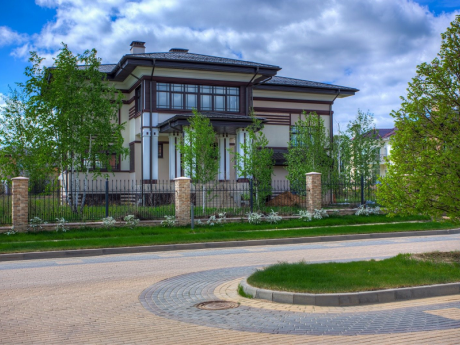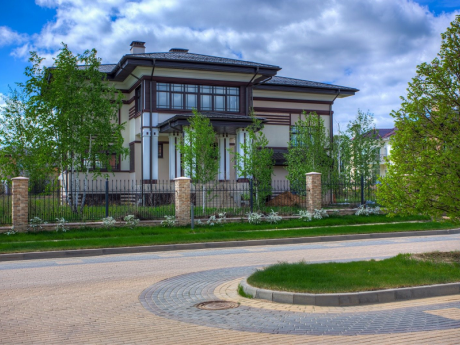 At Novorizhskoe highway, no glory "rublevki" and a collection of celebrities. Series "COP with rublevki" is, but of the series, say, "Fire from the Riga-Moscow" no. About "Riga kitchen" is not writing books of Oksana Robsky and Federal channels do stories about "Riga wives." But on the other hand there is less openly kitsch mansions and lower the margin on the "status neighbors".
At the end of last year, experts reported that the Novorizhskoye highway was ahead of his constant rival on such basic indicators as the average price of the object and the level of demand. For the year, buyers have acquired here, lot 143 for a total amount of 10.8 billion roubles. Thus, the average budget of purchase is on the new Riga direction is 75.5 million rubles. However, the local offer is not limited to expensive objects. It is very varied, though unevenly distributed by price range.
Objects to 10 million rubles

Despite the fact that the Novorizhskoye highway is focused mainly on wealthy audience (more than 100 deals 2018 with a budget of over 30 million rubles), a small portion of the Fund is concentrated in the segment of affordable housing. It consists for the most part cottages, separated by 50-60 km from Moscow and compact townhouses. In the village of "Cambridge" (25-th kilometer of highway) total area is 110 sq m (30 sq m falls in the attic) sold for 5.9 million rubles. Nearby, in the village Chesnokovo, is ready to implement a mansion in the English style with an area of 150 sq m with a small but comfortable area. The sales price stated in the amount of 7.5 million rubles. Those who are planning to stay within a budget of 10 million rubles for the purchase of the object larger than 200 sq. m with a plot of 15-17 acres and communications, should pay attention to the towns in more remote locations — between the Small and Large rings or even a Big ring. However, a few sentences there are in the range of 15-km-long belt adjacent to the capital. You can specify a two-storey house (96 sq m), built of timber. Along with a plot of 12 acres, its cost is 8.55 million.
As for Moscow, it is 11 months 2018 were sold for 13.8 thousand apartments inside the MKAD, the budget of which is estimated by experts Urbanus.ru from 5 to 10 million rubles. 8.5 million rubles, in particular, is the estimated price for a Studio apartment (40 sq m) in such residential complexes as "Zilart" or "Savelovsky city". A million less costs to gain a foothold on the border of the Metropolitan center by purchasing a small apartment (less than 30 sq. m.) in LCD Headliner. Among the objects already handed the complexes are fairly typical range is flat 52,9 sq. m in residential complex "Krylatskoe" (at the intersection of Rublevskoe highway and the MKAD), which is 9.8 million rubles.
Objects from 10 to 20 million rubles

In the following price categories the factor of remoteness also plays a big role. At the Big Moscow ring located lots at a price range of 11 to 13 million roubles. This is a solid house with an area of about 200 square meters with lots of 14-16 acres. But the bulk of supply is concentrated in a radius of 30 km from MKAD. Cottage built in 2010 with an area of about 460 sq. m with all communications will cost the new owner of 18.4 million rubles (excluding the cost of finishing). The last will get 20 acres of land. A more modest variant — detached house of 210 sq. m (three bedrooms and three bathrooms) and a plot of 9 acres — can be purchased for 13.5 million rubles. Closer to Moscow (18 km from MKAD) price increases. A three bedroom house in a gated community with a lake and the existing infrastructure is sold for 18.5 million rubles. In the framework of the 20-million budget on Novorizhskoe highway is exhibited and the individual lots at the intersection of business and premium class. Over 19 million sold ready to move in Villa, designed in a classic style. On a plot of 30 acres located a garage for two cars, guest Parking, log sauna, and room for the staff. In Moscow, these funds would be enough to buy three-room apartment (93,3 sq. m.) in LCD "Festival Park" near the metro station "River station" or a one-bedroom apartment in Prime Park on Leningradsky Prospekt. The amount which the city would be enough for a mansion 200 sqm with a land plot, within the ring road allows to count on a spacious one-bedroom apartment in "the City on the river Tushino — 2018".
Objects from 20 to 30 million rubles

Open this heading such items as a wooden house with four bedrooms, a terrace and Hammam in the city district of Istria and furnished brick cottage of 200 square meters in the village of Luzhki (24 km from MKAD). The first is estimated at 22 million rubles, the second — 23,5 million rubles. Their price equivalent in Moscow is a two-bedroom apartment (104,8 m) in the LCD LIFE–Kutuzovsky, which is located in the Park zone on the Bank of the river Setun.
A budget of 27 million rubles gives you the opportunity to think of buying a house with an area of 250 sq. m in settlement "Russian village" (25 km from MKAD), or a spacious residence (seven bedrooms, penthouse of 190 sq. m.) in the village leshkovo (18 km from MKAD), or three-bedroom apartment in Kuntsevo (LCD Vander Park).
At the upper boundary of the studied categories of objects is made in a single level house with a plot of 10 acres (village of "Peter's alley", 29 km from MKAD). The house has a summer terrace on the roof. The area equipped with Parking for four cars. Comparable price have a five-room apartment in a newly built skyscraper Wellton Towers (at the intersection of Zvenigorodskoye highway and the street people's Militia) or four-room apartment in a new LCD "Falcon Fort" (between the parks Sokolniki and Losiny Ostrov).
Objects from 30 to 40 million rubles

Budget category 30 to 40 million rubles in Moscow staffed with approximately equal proportions of premium and business lots. However, and here are a few examples of luxury housing. Budget apartments with an area of 85.2 km in the LCD Viewpoint Balchug (Sadovnicheskaya embankment less than 0.5 km from the Kremlin) is estimated at 37,66 million. This is slightly less than the cost of a two-storey house with 10 acres of land 18 km from MKAD. However, in this price range offer enough variability. Cottage "turnkey" with an area of 297 sq. m with the presence of the Spa area is sold for 36 million rubles. The size of the adjacent allotment is 14 acres.
In the price range of meet and quite a large household. 27 km from Moscow three-level (480 sq m) mansion built in 2014, finished with clinker brick and Siberian larch exhibited at the exhibition with the price of 33 million rubles. A little closer to MKAD it is possible to find a three-storey house with an area of 485 sq. m within walking distance from the lake. The stated price is 34 million rubles. As in the previous case, the transaction will be included and a plot of land of 18 acres. The Moscow equivalent of this is two-bedroom apartments in skyscraper Towers Neva (MIBC "Moscow-city").
For 40 million rubles on Novorizhskoe highway is available real estate, including the house with an area of 703 sq m with four bedrooms, a library, a sauna, two terraces and a plot of 37 acres. For comparison, in the LCD Presnenskiy Park City two-bedroom apartment in 124,4 sq. m was realized at 38,93 million.
Objects from 40 to 50 million roubles

The transition to the next category is largely a statistical Convention, a tribute to a more convenient classification. However, some trends are stronger. In particular, minimizing the number of objects with area less than 300 sq m, although they persist even in the upper price segments. In the vicinity of Pavlovskaya Sloboda in a gated community two storey cottage of 210 sq. m for sale for 50 million. But for such price it is rather unusual proposal. For the same 50 million you can buy a manor house 9 km from the Moscow ring road with the main house 540 sq. m and a guest house of 400 sqm with a swimming pool, Jacuzzi, steam room and billiard room. In relation to the Moscow realities, is approximately equal to the budget two-bedroom apartment in the towers Capital Towers (MIBC "Moscow-city") and in a residential complex RedSide (between the TTC and the street of 1905).
Not observed a direct relationship between the price of a household and its square. 15 km from MKAD over 42 million rubles is on sale ready for occupancy two-storey house with six bedrooms, gym, pool and Spa area. The area of the object is equal to 974 sq m adjacent plot of 33 weave. More remote and smaller lot (645 sq ft and 20 acres of land) is half a million more. Category two-bedroom apartment in LCD NV/9 Artkvartal (Tagansky area of Moscow).
Another characteristic phenomenon for objects with a price of 40-50 million rubles is the presence of landscaped area, which landscaped it, planted ornamental plants, installed watering system. Square footage can vary from 10-12 up to 25-35 acres. For example, a cottage (300 sq m) value of 44.9 million rubles in 24 km from MKAD. Same price spacious cottage with terrace (514 sq. m, 32 sq. m. of land) in the settlement "Pokrovskoe-Rubtsovo" and the classic mansion (432 sq. m, 20 acres of land) within the borders of Istra.
In the second part of this review we will focus on households on Novorizhskoye highway, with a budget of 50-100 million rubles, which will be price matched counterparts from among the capital of apartments.